I just got back from a trip to Shikoku, one of Japan's four main islands. In a moment of extreme foolishness I decided to bike from Honshu across the inland sea, a distance of ~75km.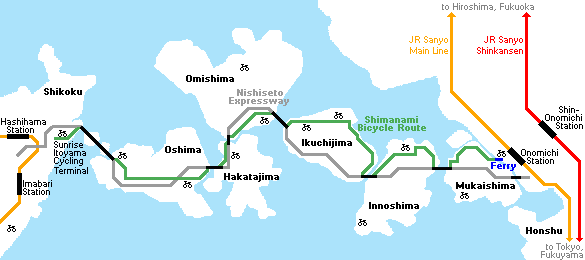 The bike ride is a popular one for Japanese tourists and biking enthusiasts and crosses six islands and offers beautiful views. Unfortunately there are also 7 bridges. 7 bridges which have to be at some distance above the water. Which means hills….
Having read online that 'there were no large inclines' and carrying everything I needed for a weekend with me, I choose a Mama-Chari with three gears and a basket over the mountain bike with no basket at the bicycle rental station. Big mistake. I knew it as soon as I saw this guy.
He had a speedometer, a GPS, a light, sweat bands, four water bottles, 21 gears and spandax. I had this:
An old lady's bike, flip flops, and a weekend's worth of stuff in a backpack.
Needless to say, he soon left me behind, but as he took detours for scenic outlooks and museums and I chugged along the main route, we ran into each other several times. He was very nice, stopping to make sure I was on route and even helping me successfully return the bike.
The route was well marked, with painted road signs every kilometer and larger directional signs at every turn. Unfortunately, at the beginning, the route signs were more discouraging than anything. After biking for what seemed like forever (actually 13km) I saw the sign that said 62 km left, and knew I had to stop for some sunscreen.
In true Japanese tradition, there were stamping stations at each bridge. I managed to find one.
I almost gave up at km 50 when I looked at the elevation map and saw two gigantic hills ahead of me, but I'm glad I persevered. The views at the end were definitely worth it.
In summary, if you do this bike ride, get a bike with more than three gears and leave your backpack at home. Also, make sure to try the gelato on island three.
How to: Take the train to Onomichi station in Hiroshima Prefecture. Across the street from the station and three blocks to the right you can rent a bicycle for 500 yen, with an additional 1000 yen if you want to return it on the other side. Tolls on the bridges cost about 500 yen total. There are many restaurants and convenience stores on the route. At the other end you can bicycle right to Itoshima city, or if you're a little lazier like me, drop the bicycle off right away and walk to the closest train station Hashihama.
Related posts: